Writing Workshop
Presented by New York Times Bestselling Authors April Henry and Robert Dugoni
Left Coast Crime 2015 is excited to offer a day of instruction on writing mystery/suspense/thrillers. We thank April and Bob for joining us and for sharing their bestselling craft wisdom with us. Whether you're a published or aspiring novelist, you won't want to miss out on the chance to learn from two of the best.
When: Wednesday, March 11, 2015, from 9:00 a.m. – 4:00 p.m.
Where: Doubletree by Hilton Portland (Willamette Ballroom), the location of LCC 2015
Price: $70 for LCC registrants, $120 for non-LCC registrants
Register for the workshop here.
Workshop Sessions
Turn up the Tension and Plot Your Way to Success
9:00 a.m. – noon
Instructor: April Henry
Mysteries and thrillers are all about plot, and this workshop is all about providing tips for writing books readers can't put down. April will share the techniques she uses to write her award-winning novels, including tips for getting your story started, growing your plot, and adding subplots. In addition, you will learn the key ingredient you only want in a book (and not in real life), traps you should avoid, how to fix stories that have stalled, and 47 ways to turn up the tension.
Lunch on your own: noon – 1:00 p.m.
Playing God: Creating Memorable Characters
1:00 p.m. – 4:00 p.m.
Instructor: Robert Dugoni
What is it about certain books that when we finish the final page the characters stay with us for days? What is it about these characters that makes them so memorable? Using examples from his own books and from other writers, Bob will teach techniques to make your characters well-rounded individuals who will keep readers wondering about them long after they have finished reading your novel.
Workshop Presenters
April Henry is the New York Times bestselling author of nearly 20 mysteries and thrillers for teens and adults, including The Body in the Woods and Girl, Stolen. Girl, Stolen has been named to nine state lists, was chosen as one of the best books in Ireland, and has been optioned for film. April got her start at the age of 12, when she sent a short story to noted author Roald Dahl (Charlie and the Chocolate Factory), who then arranged to have the story published in an international children's magazine. Visit April's website at www.aprilhenrymysteries.com.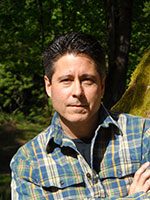 Robert Dugoni is the critically acclaimed and New York Times bestselling author of the David Sloane series, The Jury Master, Wrongful Death, Bodily Harm, Murder One and The Conviction. He is also the author of the bestselling standalone novel Damage Control as well as the nonfiction expose, The Cyanide Canary. Dugoni's books have been likened to Scott Turow and Nelson DeMille, and he has been hailed as "the undisputed king of the legal thriller" by The Providence Journal and called the "heir to Grisham's literary throne." Bodily Harm and Murder One were each chosen one of the top five thrillers of 2010 and 2011, respectively. Murder One was also a finalist for the Harper Lee Award for literary excellence. My Sister's Grave is the first in the Tracy Crosswhite series. You can find Robert at: website | Twitter | Facebook.